Facebook AR Camera Effects
Unless you have been living under a rock for the last five years you are aware of the augmented reality effects on social media apps like Snapchat. There are alternatives, like the Facebook AR camera effects, which look very appealing compared to Snapchat. As technology continues to advance on our mobile devices so do the means in which marketers are reaching their customers and fans. Since 2015, when Snapchat launched custom AR lenses, a brand could sponsor a filter which would transform the look and appearance or background effects in the user's camera. This content could be filmed and shared with their followers and this branding effect has continued to create waves of interest and produce content that has gone viral across social media.
For Cinco de Mayo in 2016 Taco Bell sponsored a filter which transformed the mobile phone user's head into a taco which ended up delivering amazing results. It produced 224 million impressions in just 24 hours, with the average user engaging with the filter for 24 seconds! This is mind-blowing and kudos to the Taco Bell social media team for taking a risk on this investment which costs a cool $750,000 for a 24-hour window on the weekends. If you want to save a little budget you could run your filter during the week starting at $450,000.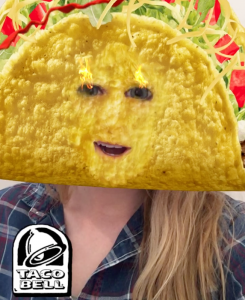 While Taco Bell holds the current record for the number of impressions there have been many brands which have done filters including movie studios, Gatorade, video game publishers and more for a very creative way users can produce original content branded with their favorite brands. On Snapchat there are approximately 165 million monthly active users according to the latest figures. Many brands are overlooking one opportunity to potentially reach 2.1 billion users on Facebook and truly give their brand global reach. Facebook entered the augmented reality game to compete with Snapchat in 2016 when it acquired Masquerade, a camera effects company, which has now been fully integrated into the Facebook camera application.
The Advantages of Facebook AR Camera Effects
The AR effects within the Facebook camera have many types of functionality including masks, frames, stickers, motion effects and more just like Snapchat. The benefit for a brand to publish a Facebook AR camera effect is that at the current time the effects last much longer than 24 hours. In many cases, it runs for up to 6 weeks and the costs at this time are tied just to development costs. On Snapchat the filter is available for the full user community of 165 million users, while on Facebook it begins with only the followers to a specific brand account to have access to the page.
There are some tactics you can use to specifically open up the Facebook AR camera effects on a global level with can be aided through promoted posts. One strategy is working with influencers across Instagram, Facebook and Twitter to raise awareness and produce interest for the Facebook AR camera effects and share with fans how to get access to it so it can be used on a much larger scale than just to your brand's Facebook followers.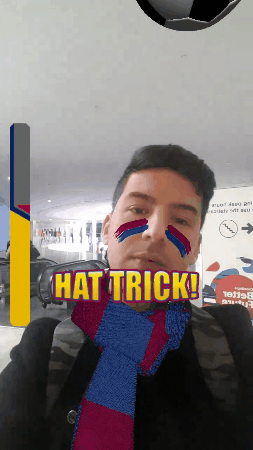 What Promoture Can Offer
The team here at Promoture has been working with leading brands on influencer campaigns since 2015 and with our team of developers we can produce custom Facebook AR camera effects for your brand on Facebook. These Facebook AR camera effects as mentioned can run up to 6 weeks and can run longer with updates as the Facebook platform is updated. We are able to produce the AR effects in a few weeks and there are a number of features we can design into the filter. Customizations include the look, sound, visual effects and also including data feeds from third-party APIs to post metrics such as time, temperature, and the score for a specific sporting event.
Facebook AR Camera Effects Use Cases
Facebook augmented reality camera effects are perfect for brands in live entertainment such as concerts and festivals, sporting teams where fans can wear their teams' jersey, hat, etc and are also ideal to launch movies and television shows. ABC Television recently produced a Facebook AR camera effect for the premiere of Roseanne which performed very well. Imagine giving your fans the ability to create and post original photos and videos of themselves on Facebook and Instagram branded with your logo, mascot or theme. When you add an influencer campaign to the launch of the filter you can intentionally create a wave of awareness around your product, film, team, or event through the user-generated content published by everyday fans and followers of the influencer. This strategy will result in extending the reach far beyond the follower count on your social media accounts.
If Facebook AR camera effects are of interest to your brand please contact our team so we can share more information and share more information and examples.
Sources:
AdWeek: http://www.adweek.com/digital/taco-bells-cinco-de-mayo-snapchat-lens-was-viewed-224-million-times-171390/
Techcrunch: https://techcrunch.com/2016/03/09/facebook-acquires-video-filter-app-msqrd-to-square-up-to-snapchat/